Driver Qualification Files: 5 Reasons to Go Digitally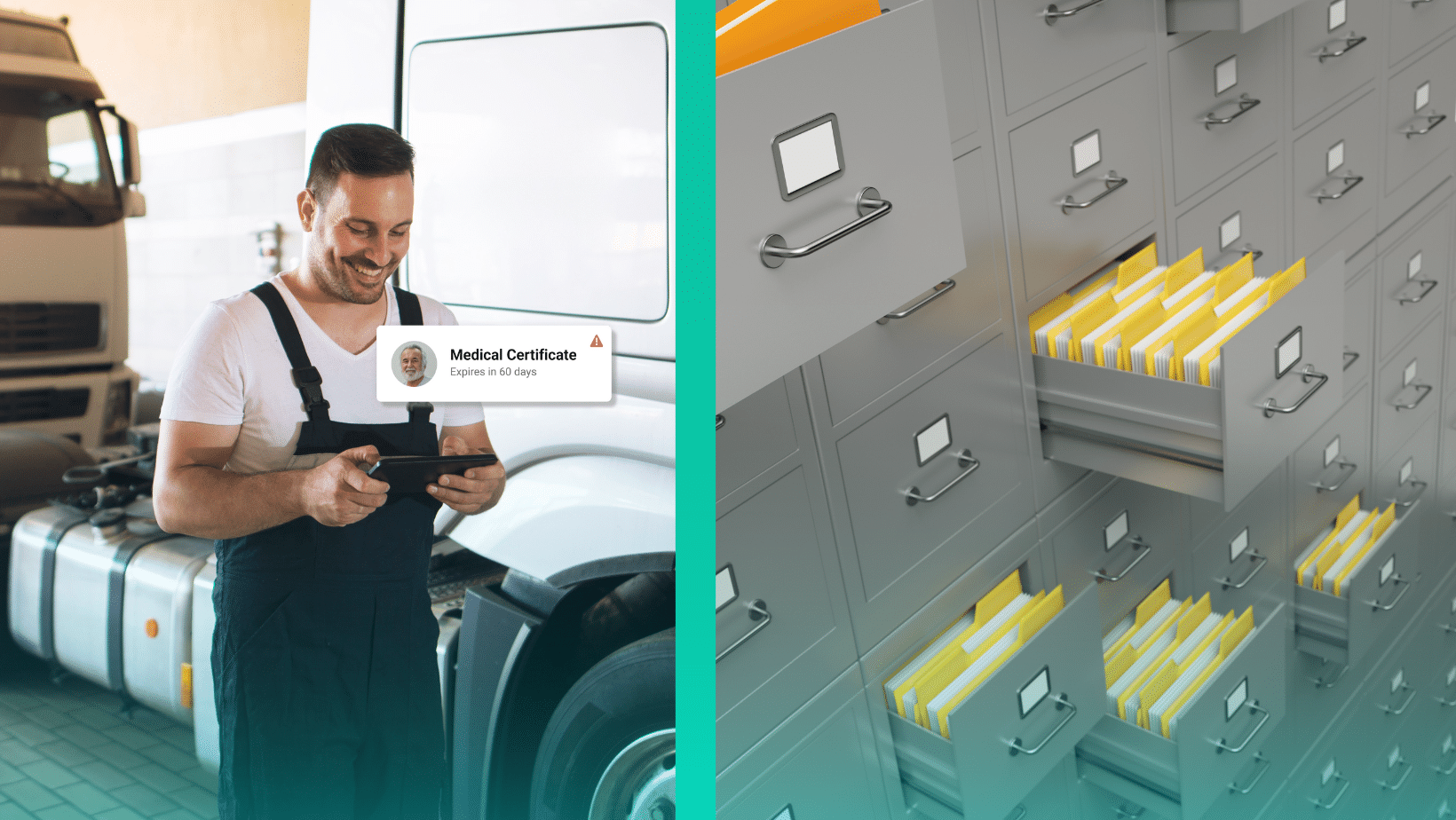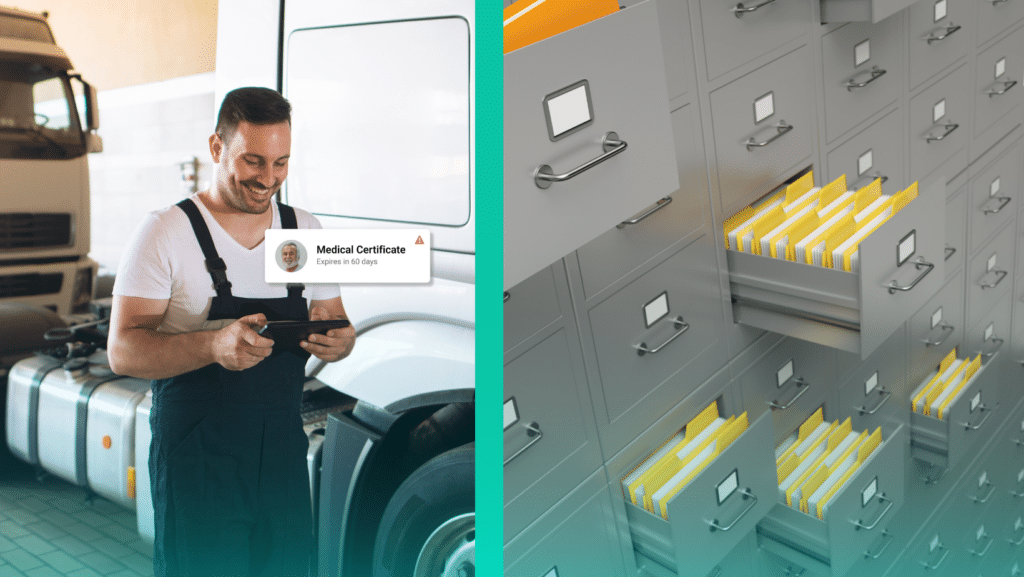 If you hire employees who are DOT regulated (such as CDL drivers or employees with medical exceptions), you know record-keeping can be overwhelming. Think about all the energy it takes to maintain up-to-date Driver Qualification Files and other required records for each driver in your fleet. Do you know when the next expiration date is coming up? Are you prepared for an audit?
The more drivers in your fleet, the more challenging it is to stay on top of all these files. That's especially true if your system for managing files is mostly manual. Be honest: Are you still saving paper copies of files in a filing cabinet? Using Excel spreadsheets to track deadlines and expiration dates?
Now is the time to join other motor carriers in going digital. Keep reading to learn why you should consider transitioning to a digital DQ File management system.
What Are the Risks of Non-Compliance of Driver Qualification Files?
Motor vehicle carriers that fail to maintain compliant Driver Qualification Files can face serious consequences. These consequences include:
Significant fines per violation
Deactivated DOT numbers
Out-of-service orders
Higher CSA scores (which can result in higher insurance premiums and increased audit risk in the future)
Consider this example: the maximum penalty for failing to maintain a copy of the driver's MVR in the Driver Qualification File is $1,388 daily up to $13,885. This penalty is per violation. If an audit turns up multiple violations, your company could be on the hook for hefty fines.
Benefits of Digital DQ File Management

Digital record-keeping is one way to reduce risk. Here are five benefits of implementing Driver Qualification File management software:
1. Be ready for offsite audits
In recent years, the FMCSA has begun transitioning from onsite to offsite audits. Offsite audits increased by 400% in 2020 and nearly doubled in 2021. FMCSA data shows that these audits, which are easier and more cost-effective to conduct, are here to stay. 
Today's forward-thinking auditors expect motor vehicle carriers to keep digital records. When flagged for an audit, you must turn over required documentation in a digital format faster than ever before. What was once a 3-4 week turnaround window is now just 48 hours.
With a digital Driver Qualification File system in place, your documents are easily accessible at a moment's notice. Nearly 90% of offsite audits in 2023 have resulted in at least one violation, according to data at publication time. Don't let your company become part of that statistic.
2. Keep your files secure
There's a common misconception that locked filing cabinets are highly secure. But physical files are susceptible to theft, fires, floods, and other unfortunate events. Imagine having to replace all the files in your cabinet following one of these events. Where would you even start?
A secure digital Driver Qualification File management system gives you the peace of mind that your files aren't going anywhere.
3. Track deadlines and expiration dates
No matter how many drivers are in your fleet, chances are an expiration date is approaching for something. If you're currently tracking expiration dates using an Excel spreadsheet, the process becomes increasingly difficult as your driver count grows. Spreadsheets are only so effective at scale!
The best DQ File management solutions give you the option to set reminders right within the system. With automated reminders, you can say goodbye to the risk of missing expiration dates. The platform will notify you 30,60 or 90 days in advance allowing you sufficient time to take necessary actions, such as renewing licenses, certifications, or medical exams. By staying on top of expiration dates, you ensure compliance with regulatory requirements and avoid potential penalties or disruptions in your daily operations.
4. Access files anywhere at any time
Paper files can go missing easily. And even if your company keeps paper files organized in a filing cabinet, access can still be a significant hurdle.

Imagine the FMCSA initiates an audit. But the person with the key to the filing cabinet is on vacation or parental leave. You won't be able to access the required files as quickly as necessary. What will you do?

Instead of searching through multiple folders or physical files, all necessary information is conveniently stored and organized within the platform. This centralized approach saves time and eliminates the hassle of sifting through paperwork when responding to audits, inquiries, or routine driver checks.
5. Minimize paper usage
Cluttering a desk or filing cabinet with paper isn't just unmanageable from a logistical standpoint. It's also bad for the environment. Digitizing Driver Qualification File management is a step toward embracing better environmental practices.
What to Look For in a DQ File Management Solution
Not all DQ File management solutions are equal. Look for these differentiators when conducting your research:
User-friendly interface. Going digital is a significant undertaking. Simplify the process by finding a platform with a user-friendly interface that your team can easily master.

Comprehensive capabilities. Why use multiple platforms when you could use one? The right solution will integrate all the capabilities you need to manage your fleet risk management program.
Security you can trust. Trustworthy solution providers will be eager to answer any questions you have about platform security.
Looking for a DQ File management solution that checks all the important boxes? Embark Safety's Driver File Manager is one of the many features of our MVR Monitoring software. Book a demo to learn more!
*We are not lawyers. Consult with your legal counsel to ensure your processes and procedures meet/ or exceed safety standards and compliance regulations. Please read our legal disclaimer.