Avoid These Top FMCSA Violations with MVR Monitoring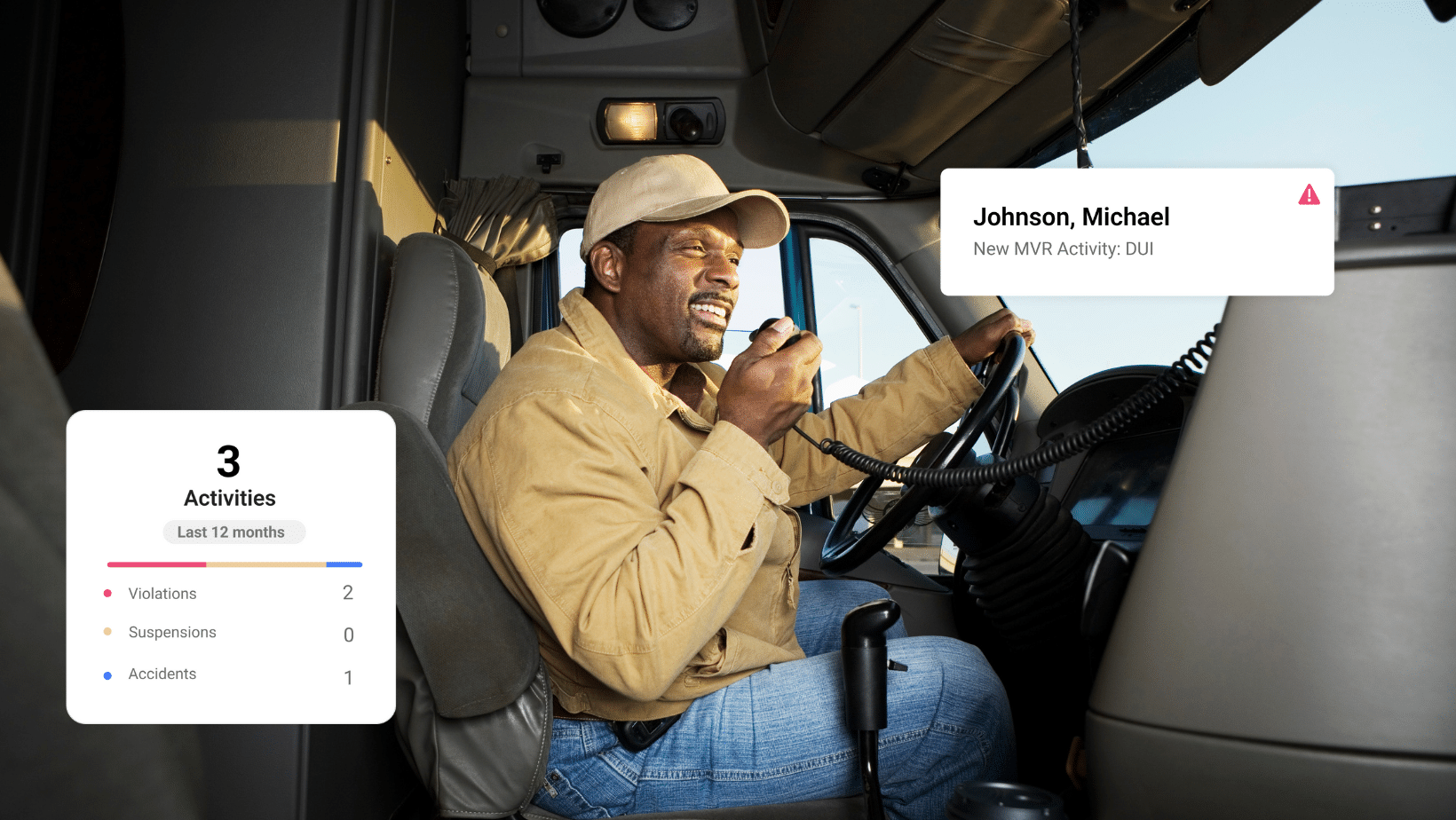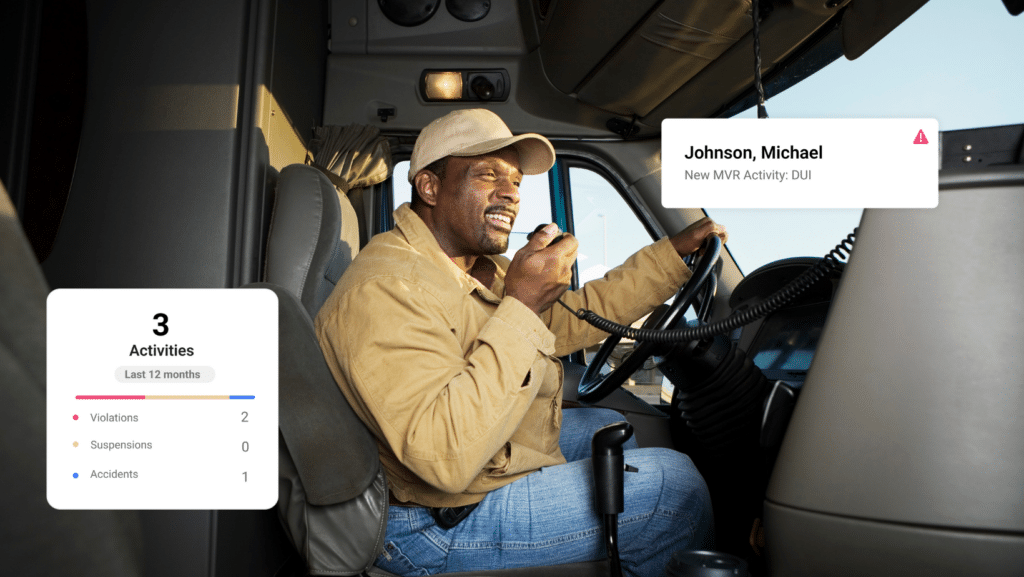 In March 2023, inspectors performed 222,175 commercial motor vehicle (CMV) roadside inspections in the United States. Why? To ensure that CMV drivers and motor carriers operate safely and comply with FMCSA regulations.
That's more than 222,000 opportunities for fines and violations—both for the driver and the company that employs them. In fact, FMCSA data shows that over half of roadside inspections result in at least one violation. (The 2023 average is about 58% at the time of publication.)
Let's take a look at the most common FMCSA violations and how an MVR Monitoring solution can help prevent them.
Ignorance Is Not a Viable Excuse
First, it's important to keep in mind that ignorance is not a viable excuse when it comes to FMCSA violations. The bottom line is that if you employ DOT-regulated drivers, your company is accountable for those drivers. You must take every step necessary to ensure your drivers don't receive violations. Violations can have major consequences for your business, including:
Fines
CSA score increases
Higher insurance rates
Motor carriers that rely on the right technology can better manage requirements and identify red flags to prevent costly violations.
Top 5 FMCSA Violations
Here's how MVR Monitoring can help you avoid these top five FMCSA violations:
FMCSA Violation #1
Allowing a driver to operate with a suspended/revoked CDL
There's a reason this violation is number one on our list. According to FMCSA violation data for the fiscal year 2021, allowing a driver to operate with a suspended/revoked license accounts for 30.63% of total acute violations. It consistently ranks as the top acute driver violation year over year. If authorities catch a driver in your fleet operating with a suspended or revoked CDL, you can expect to pay an average fine of $8,991.
Without a system to monitor license suspensions or revocations, you might not find out about them until it's too late. As a DOT-regulated employer, you only need to run an MVR on your employees once every 12 months. So if a driver has their license revoked after their annual MVR review and doesn't notify you, you risk not learning about it until the following year. It's a best practice to take matters into your own hands with continuous monitoring.
MVR Monitoring alerts you in near real-time when a driver has their license suspended or revoked or when their license expires. The exact frequency of the alerts varies by state. You'll receive an email notification daily, weekly, or monthly.
With the critical information MVR Monitoring makes available, you can avoid this top FMCSA violation. You can also avoid associated complications, like a driver with a suspended license getting into an accident that opens you up to a costly and damaging lawsuit.
FMCSA Violation #2
Allowing a driver with more than one CDL to drive a CMV
It's against federal regulations for drivers with multiple CDLs to operate a CMV. Yet allowing it to happen remains a top FMCSA violation year after year. The average fine for these violations is $8.378.
As the motor carrier, you must ensure each driver has only one valid CDL and one complete driver record. This is where a CDLIS report can come in handy.
This Commercial Driver's License Information System check shows the driver's CDL number and the issuing state for their current CDL(s). Additionally, it shows up to three previous commercial licenses held in the United States. You'll have access to CDLIS reports with our MVR Monitoring solution.
Learn the differences between MVRs, PSP and CDLIS reports.
FMCSA Violation #3
Incomplete driver qualification (DQ) file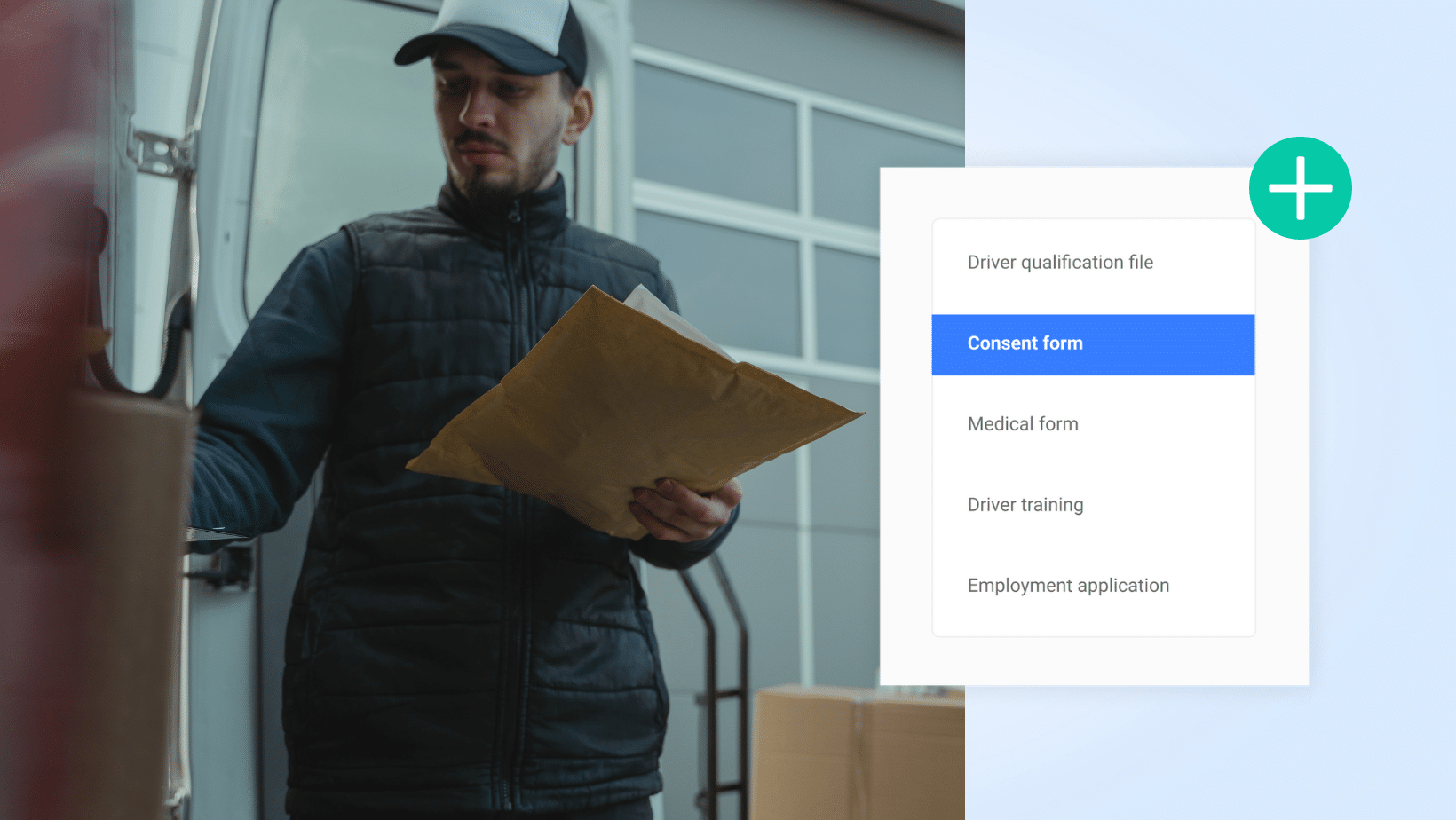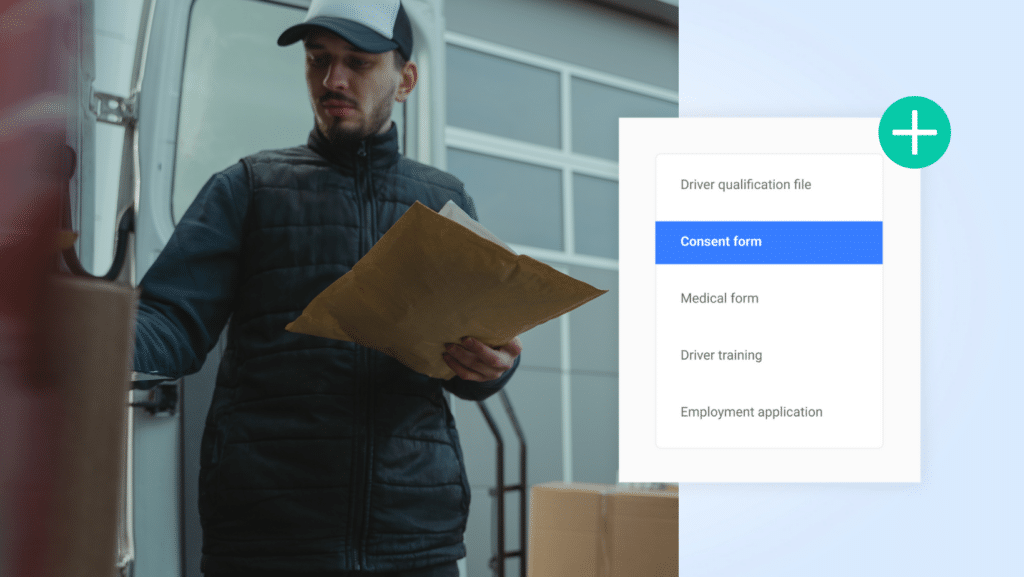 Failing to maintain up-to-date DQ files for the CMV drivers in your fleet can lead to violations averaging $6,000. But this requirement can be overwhelming to manage, especially if you use a filing cabinet to organize this information. It's easy to lose track of when documents have expired or overlook that a document is missing.

Manual solutions fall short in many other ways, too. What happens when the person who manages the filing cabinet is on vacation, and you can't access a file? Or if you're undergoing an audit and can't locate a particular document amid a mess of papers?

Now is the time to embrace digitization if you haven't already. The DQ file manager feature integrated within our MVR Monitoring platform helps you simplify and streamline driver file management.

The feature allows you to manage and organize documentation, including a driver's employment application, medical certificate, motor vehicle record, road test certificate, pre-employment drug and alcohol testing results, training, and more.
Everything you need is available at your fingertips. And with the ability to set reminders and alerts, you can essentially "set it and forget it." The system will automatically track and notify you of CDL and medical card expiration dates.
FMCSA Violation #4
Expired Medical Examiner's Certificate

CMV drivers hauling weight over 10,000 pounds must pass a Department of Transportation (DOT) physical examination every 24 months. Some drivers may need to pass the exam more frequently, as determined by the medical examiner.

If any of your CMV drivers are operating a commercial motor vehicle (CMV) without an up-to-date Medical Examiner's Certificate, your company is at risk of tickets, fines, and sanctions. However, as you know, it can be difficult to stay up to date on this documentation.

Our MVR Monitoring platform allows you to set reminders for 30, 60, and 90 days before a driver's Medical Examiner's Certificate expires. You can log in at any time to see where each employee stands.
FMCSA Violation #5
Driving Violations

Studies have shown that past behavior is a key indicator of future performance among CMV drivers. So wouldn't you like to know when one of your drivers receives a moving violation for speeding, following too closely, improper lane changes, or reckless driving?
In a year, between 5-7% of your drivers will have negative activities in their records. With a solution like MVR Monitoring, you get notified in near real-time as new violations hit your employees' MVRs. Additionally, our platform provides access to violation trend reports to present a complete picture of your fleet risk.
Knowing when violations happen is the first step in mitigating driver risk. With MVR Monitoring, you can take corrective actions by assigning interactive driver lessons to address different infractions.
Reduce FMCSA Violations with Continuous MVR Monitoring
The violations listed here are just several of the many violations that can negatively impact your business. With continuous MVR monitoring, you can avoid FMCSA violations, improve your CSA score, and protect the future of your business. Contact us to request a demo of our MVR Monitoring solution.
*We are not lawyers. Consult with your legal counsel to ensure your processes and procedures meet/ or exceed safety standards and compliance regulations. Please read our legal disclaimer.